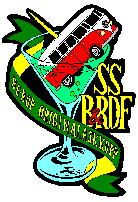 ---
APPLICATION FORM:
To join, please fill this form as truthfully as possible. The annual fee is 150 swedish crowns for swedish residents and 25 US$ for other nationalitys. Once approved you will recieve SSB&RDF´s magazine THE SWEDISH COCKTAIL PAPER (three or four times/year), a membership card (to prove your belonging), the SSB&RDF emblem the rules of the association and you will also be given a new name that will be considered as your real name starting the day you are approved. Good Luck!
---
We will contact you as soon as we have treated your application. If your application is approved you will be notified of your future duties.
---
Home| About SSB&RDF| Bizarrism| The Board| Categories| Join|
---
This page is constructed by

THE COUNT.
© 1996
Pictures by Jonas Axelson, Jan Mickelin and Wilhelm Petersson.
Illustrations by Joakim Lindengren and Wilhelm Petersson.